Driveway Projects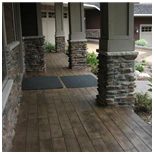 Wood Plank Stamp Patterned Driveway
Minnesota contractor, Lonny Mattila of Allstate Decorative Concrete, used a wood plank pattern to extend from a home's porch and down the front walkway to form a border around a large colored concrete driveway. The driveway was integrally colored then broomed for a slightly textured finish. The color chosen was the closest that could match the color of the home's garage doors. The wood plank sections were also integrally colored with a powder release applied in a contrasting color.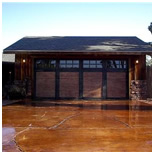 Ugly Driveway Makeover
The curb appeal of this Las Vegas home instantly increased when Rick Metzler of Pizzazz Painting colored the concrete driveway and handpainted the garage doors for an authentic, rustic look. Metzler's motto is "Why have a beautiful driveway with an ugly, big white garage door at the end of it?" On the driveway, Metzler used concrete stains for a warm brown color. He accentuated the existing cracks in the driveway for a rustic appeal. Then he faux-painted the garage door to look like rustic wood, making custom hinges and door handles for an antiqued look.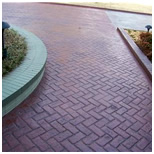 Creating the Look of Brick with Concrete
Twenty-year-old existing concrete was removed for this project. New concrete was poured to create a grand entrance to the home. A custom brick herringbone stamp was used to create the look of a brick paver driveway. Stamping the job was much more cost effective for the homeowner, and produced the same authentic look. The driveway was colored in brick red to complete the look. Along the longest portion of the driveway, the stamp pattern was changed to Roman slate with repeating bands in the herringbone pattern every 20 ft. This added decorative interest, was more reasonable cost-wise, and created unity between the patterns.